Surf Team

The focus of Menehune Surf team is to enable beginner and intermediate surfers to progress in all aspects of their surfing.  Our program is dedicated to safety and structured to provide a fun and enriching setting for young wave riders to build the confidence necessary to develop into the surfer they want to become. Ages 9-17.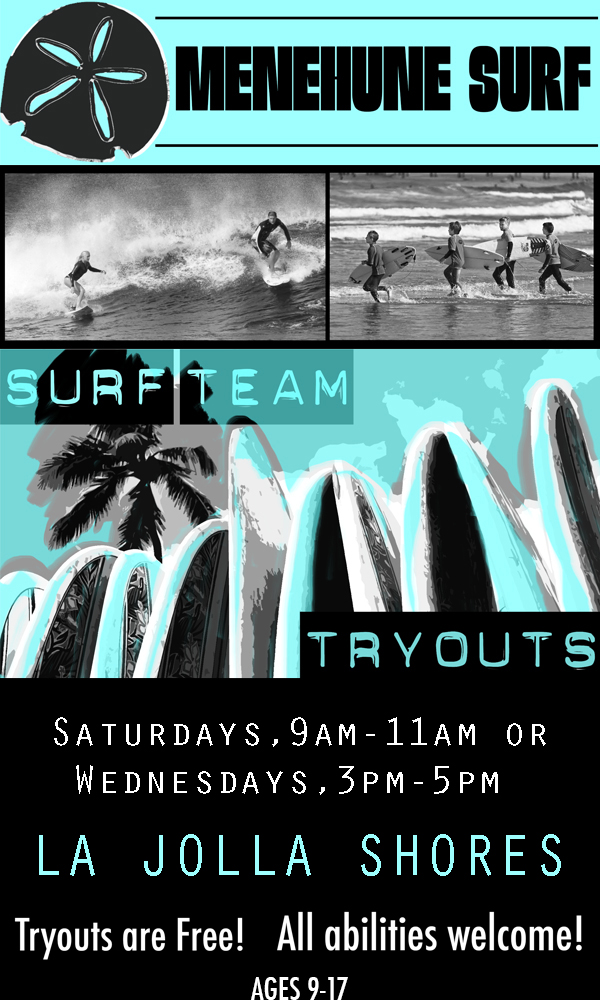 Additional Program Highlights:
Highly accredited coaches have been selected for outstanding surf experience and a genuine love for coaching.
Teams are selected based on ability and age to help foster a strong team bond and making friends
Weekly, monthly, and seasonal goal setting
Maximum of 4:1 student to instructor ratio
Surf-specific fitness, training, and nutrition
Guest speakers such as pro surfers, journalists, shapers, photography, surf contest judges, surf forecasters, etc.
Visit shaping rooms
Video feedback and assessment
Personal portfolio building
Swell forecasting and world surf geography
Competitive strategy, experience, and psychology
The primary objective of our curriculum is to support, challenge, and inspire both the "free surfer" (non-competitive) and the competitive surfer. We offer two distinct programs for beginners and intermediate.  Coaches conduct a skill assessment to develop a personalized training program for the rider as well as to place each rider with a training group appropriate to the rider's skill level.  We understand that there are strong social ties rooted in surfing, thus we consider request for group placement.
Price: $300 per month.  Less than $12/hour for safe, one of a kind afterschool programs!
All practices include foam surf board (or bring your own), wetsuit, and rash guard.
Location: The Menehune Surf School La Jolla Shores Location.  You will be sent an email with driving directions with your RSVP.
Schedule: Students choose two practices each week.  We hold practices Wednesdays from 3:30pm-5:30pm, Saturdays from 9am-11am and Sundays from 9am-11pm.

Sign Up For Try-Outs Here!
Contact us for more Info